The purpose of this guide is to show users how to set up phone banks on the Shared Contacts side of the database. Reaching out to people in your riding by phone is a great way to reach out to volunteers but also to contact Liberals in your riding during the Day of Action to invite them to participate in an info session about the 2020 Liberal National Convention.
1. From the
My List
page:
Click on the

Calls

icon.

Click on

Set up Virtual Phone Bank List

3. Select a Saved Search
A dynamic list that changes according to the criteria you selected. This list will constantly add or remove people as per the criteria you selected upon the creation of your list.
Click on Continue

2. You will be brought to the VPB administration screen.
3. Enter the Virtual Phone Bank Details
Begin by giving your VPB a name

You may also add a description that includes the criteria of the list that you are using to make your calls.

Select the appropriate Script from the drop-down box.

Enter the dates that you want your phone bank to be live.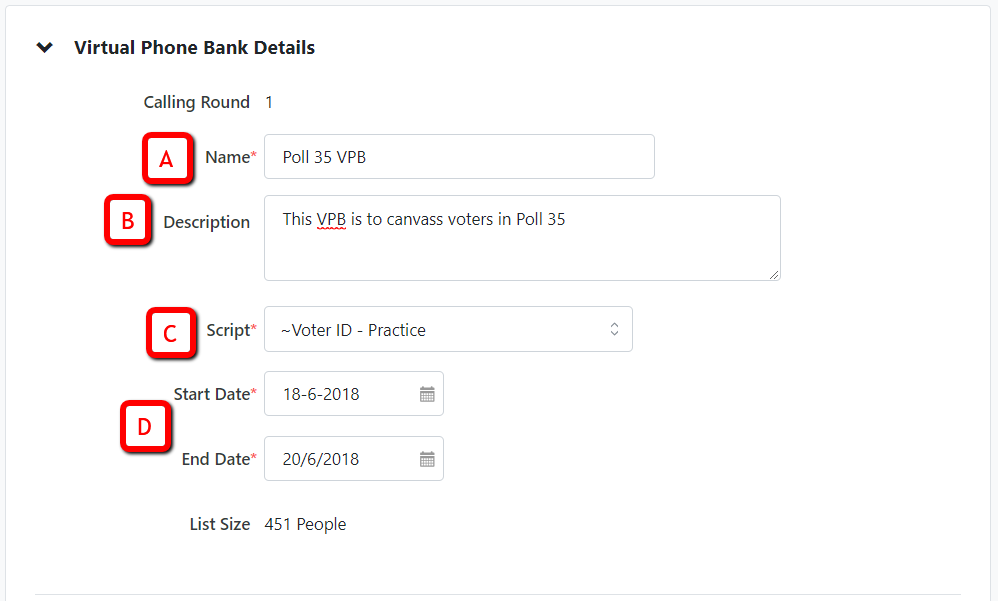 4. Select a Sharing Option
Within the VPB, you have two options:
Choose: Do not share your VPB

5. Adding the Event Scheduler to your VPB
You can choose to allow your callers to schedule the people they contact for an event directly through the VPB. This is great for volunteer recruitment phone banks because you can easily schedule a volunteer for a training session or a volunteer activity directly within the phone bank.
Tick the box next to Event Scheduler. Additional criteria will appear.

Enter the date range of the events that you want to be able to schedule volunteers for. Please note these dates need to be within a week.

Select the Event Types that you want to be able to schedule volunteers for.

Under Event Role, select Attendee/participant. This will ensure that all individuals that want to attend this event are marked as Attendee/participant.

In Event Status, select Scheduled. This will ensure all interested individuals get marked as scheduled.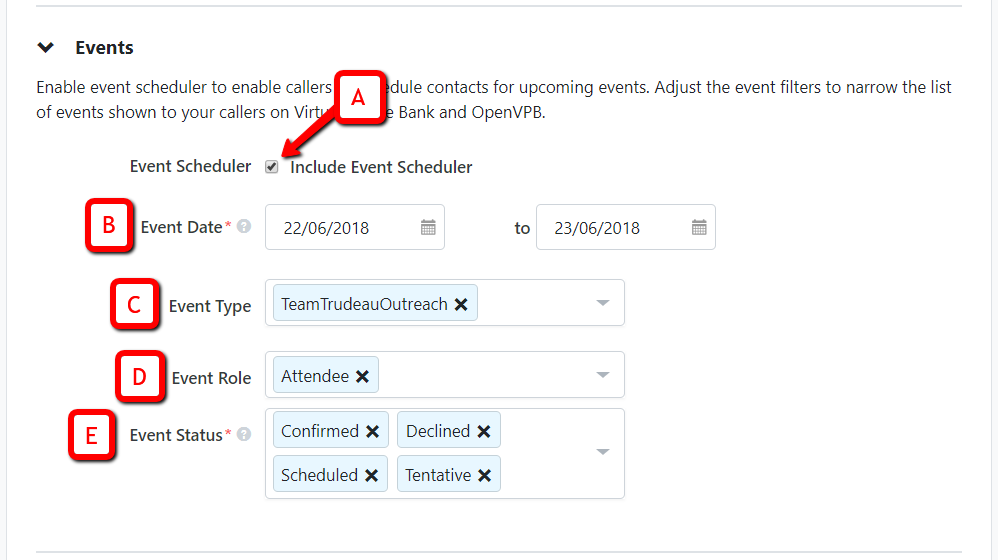 6. Set your Additional Settings
Many of these settings are optional but can be very helpful for running an effective phone bank.
Daily Availability:

Set this field to times that fall within the hours permitted by CRTC regulations. This field ensures that your callers are only making calls within a certain time frame. This field is obligatory.

Time Limit:

You can set a time limit for your phone bank which regulates the amount of time your callers can spend making phone calls. This is helpful to prompt your volunteers to take a break if they have been making calls for a long time. It is a good practice to set this to 60 minutes.

Contact Limit:

This feature will set a goal for your volunteers to reach in terms of successful contacts or attempts. Used in conjunction with the Progress bar function, this feature can be used to encourage your volunteers to reach a set number of attempted calls or successful attempts.

Repeat:

If setting a time limit or a contact limit, it is a best practice to tick the Repeat checkbox. This will allow your callers to repeat a session so that they can continue making phone calls.

Distribute Contacts:

Enabling this function will prompt your callers to enter their postal code so that they are provided with phone numbers of individuals that live in their area.

Householding:

If you want each person in the household to get a call, regardless of whether they live with a person on your list who has already been called, choose

Do not display Also in Household.

If you need an answer from each person on your list, but want to be able to canvass a whole household in one call whenever possible, choose

Show only People in Household from Virtual Phone Bank list

. This is perfect for projects like Membership Renewal where you need to ask every member to renew their membership, but don't want to talk to people who live in the house who are not on your list (they may already be renewed or may not be members). If you don't need an answer from everyone in the house and don't mind who you talk to in the house, choose to

Show all Also in Household

.

Alternate Numbers:

Select Attempt Alternate Numbers. The system will display all alternate phone numbers that we have in the database for the person you are trying to reach.

Skipping:

Skipping allows your callers to skip a household or contact so that they do not have to make that call if they feel uncomfortable doing so.

Status:

Set the status to Active!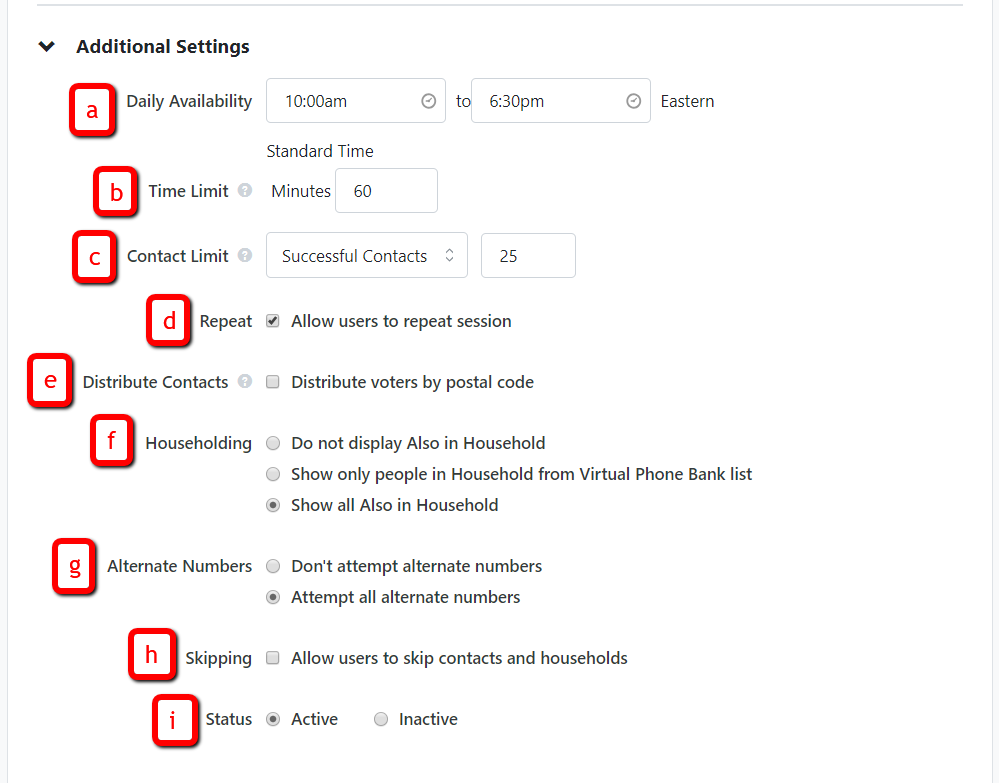 7. Display Settings
Displaying certain information is important and displaying too many settings can be overwhelming for volunteers.

It is strongly recommended that you display the following settings:
Age and Sex: This will give your caller a better idea of who they are reaching out to.

Preferred email and preferred phone: This will allow your callers to see what email we have on file and what an individual's preferred phone number is set as. It is always a good idea to display these settings so you can confirm that these are good ways to reach them.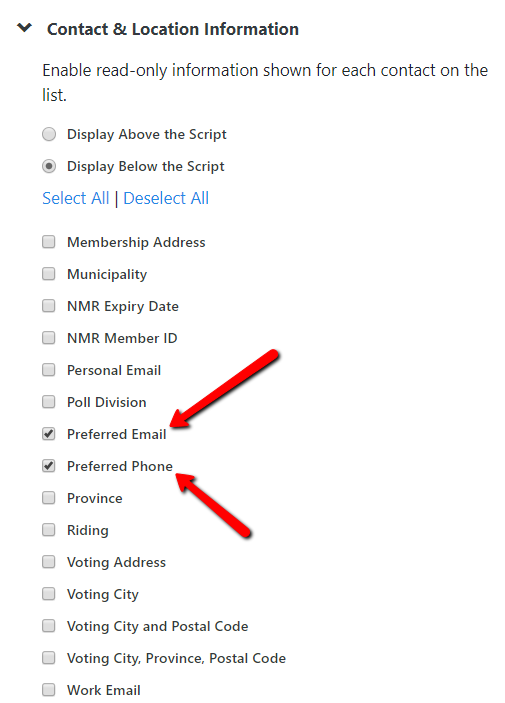 In the Editable Contact Section, make Addresses, Phones, and Emails editable. This will allow your callers to make edits to that information while on the phone with a voter. Keeping this information up to date is crucial!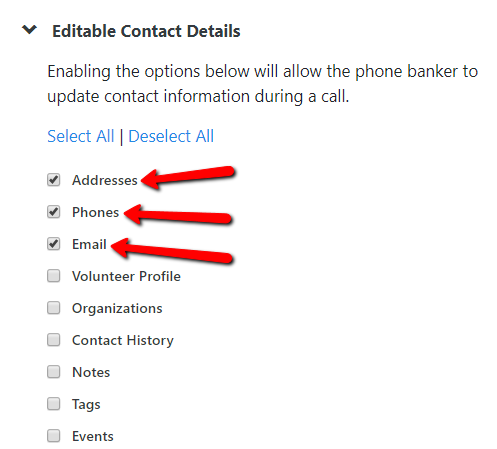 Displaying Survey Questions and Activist Codes: These are not necessary but can be added. They will display data points that allow your caller to see their support in previous elections or any issues they care strongly about.
When creating a phone bank on the My Voters side of the database it is generally discouraged to display past Survey Questions and Activist Codes because they can display affiliation information which could bias a caller or make them uncomfortable making the call.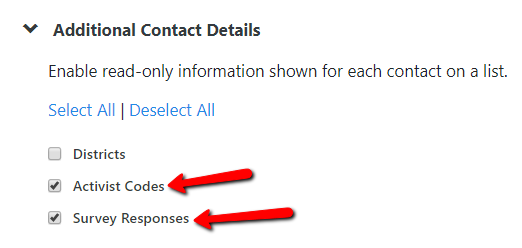 Progress Bar: This is a great feature that allows your callers to see how well they are progressing through their Virtual Phone Bank. You can choose to include an individual progress bar and a progress bar for the entire team.
Remember: If you had set a Contact Limit, the individual progress bar will show how well a volunteer is progressing towards their contact limit. This encourages your volunteer as they make calls!

Only make the entire phone bank progress bar available if the list is small and manageable. If the list is too long and the progress bar indicates slow progress, this can be discouraging!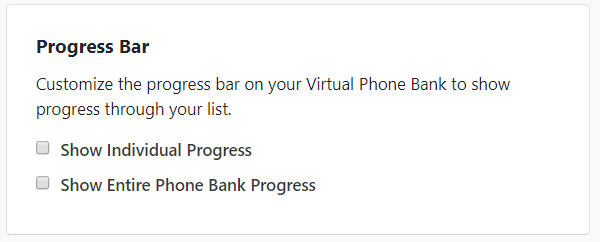 8. Create your Phone Bank!
Scroll up to the top of the page and click on Next once all your criteria has been selected.

Your phone bank is now created!
9. Sharing your Phone Bank
You have various options to share your VPB
Share your VPB by providing your volunteers with the List number generated.
Share your VPB by scrolling down to the User Access Section. Highlight the names of the users you want to give access to and click Add. They will become User with Access.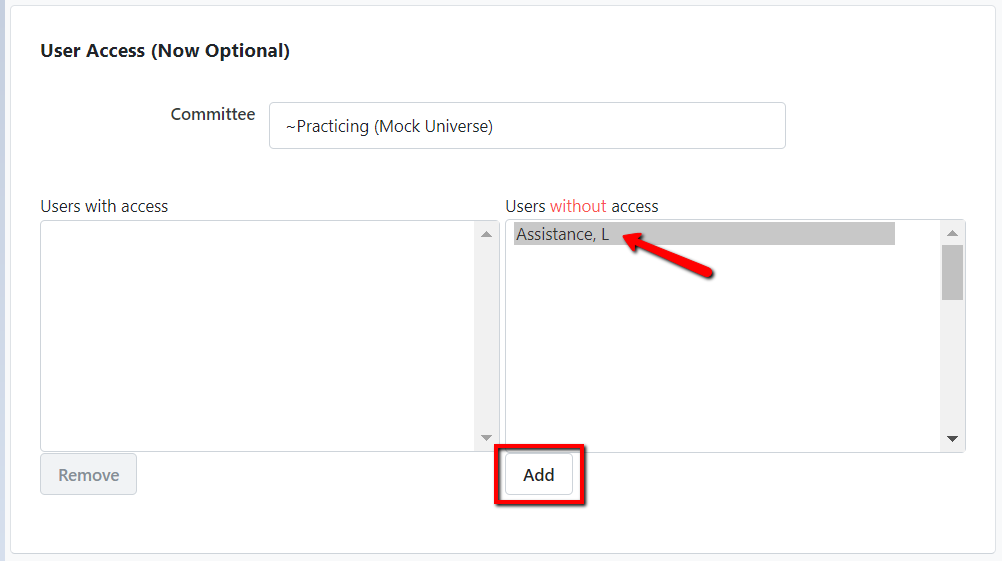 Share your VPB by scrolling down to the Committee Access Section and click on your riding committee. Click Add so that all users in your committee gain access to the VPB.